WEEKLY NEWSLETTER


21 March 2017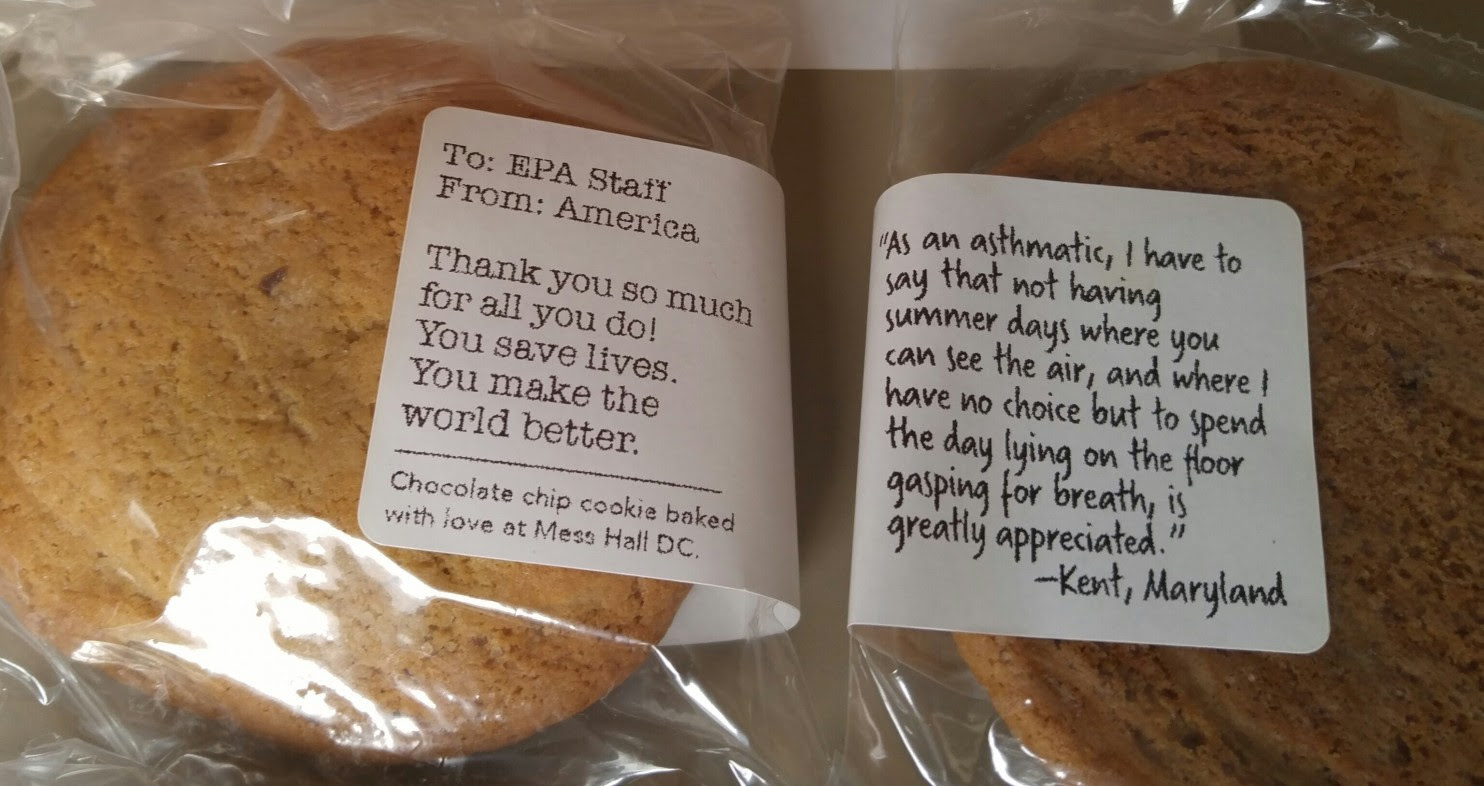 EMBATTLED EPA SEEING SOME RELIEF

As most folks know by now, EPA hatchet man, Scott Pruitt, has launched a frontal attack on the Clean Power Plan and the Clean Water Act provisions, has delayed requirements that mine companies clean up afterwards, and intends to decimate the agency by up to 25%. What's more, in denying over a century's worth of established science and basic facts, Pruitt famously said on 9 March 2017 that "I would not agree that [CO2] is a primary contributor to global warming" - EPA head falsely claims carbon emissions aren't the cause of global warming.

Drumph has signed executive orders that gag EPA staff communications, neuter the "Waters of the U.S. Rule", open up coal mining on Federal lands, and place a freeze on listings to the Endangered Species Act. And the president's* recently released budget seeks a $54 billion hike in military spending, while cutting EPA funds from its current level of $8.2 billion to $5.7 billion, eliminating about 3,200 positions. Understandably, EPA career professionals are feeling demoralized - Drumph's budget is a declaration of war on the environment, (lots of details in the story if you can stomach it).

But others are rallying to their support, in small ways and large. The Washington Post reported that people from all over are sending EPA employees chocolate chip cookies and thank you cards. Each cookie wrapper included a personal story from people around the country expressing their gratitude for the good work of the EPA - People are sending EPA employees chocolate chip cookies and thank you cards.

More significantly, the entire State of California is taking steps to bolster both the job prospects of EPA staff, and the continuation of environmental protections, at least in California. Last Thursday, California officials were at the Washington EPA headquarters to say that the California Public Utilities Commission, the California Air Resources Board, and the California Energy Commission are all hiring. All three agencies are advertising jobs that address climate change, renewable energy, air quality and clean energy research and development - Come West, California is Hiring: State Recruits EPA Climate Scientists. Furthermore, the California Legislature has proposed legislation "to fold existing federal air, water and endangered species standards into state law, enshrining pre-Drumph levels of protection in California, regardless of any reversal at the federal level" - California moves to pre-empt Drumph on environment, endangered species.

CALIFORNIA JUDGE REBUFFS MONSANTO, RULES TO LABEL GLYPHOSATE AS CANCEROUS
After the World Health Organization determined in 2015 that glyphosate (active ingredient in Roundup) is a probable human carcinogen, the
California Office of Environmental Health moved to add it to their list of probable carcinogens
to be labeled as such. Of course, ever litigenous
Monsanto sued the state
, arguing that adding glyphosate to the list was unconstitutional (???). Joining with California against Monsanto were the National Resources Defense Council, the Sierra Club, the AFL-CIO, and the Environmental Law Foundation.
Judge Kristi Culver Kapetan ruled against Monsanto
, stating that "there does not appear to be any chance that Monsanto [has] valid claims under any of the theories they can rely upon". Monsanto has one year before their products sold in California must be labeled. Most likely they will appeal the ruling -
California Judge Rules Against Monsanto, Allows Cancer Warning on Roundup
.
NEONICOTINOIDS ARE IMPLICATED IN BEE DIE OFF, NOT NEEDED TO GROW FOOD
The most widely used pesticides, a broad class called neonicotinoids, are applied to millions of acres of farmland in the U.S. Nicotine, a derivative of tobacco, is a natural insecticide, and neonicotinoids are a chemically pumped up synthetic version. In the U.S., they are applied to at least a third of soybean acres and nearly 80% of corn acres. Because neonicotinoids are so prevalent and so powerful, they are a prime suspect in the 30% die off of U.S. honeybees last winter.
Though not yet conclusive, some research links neonicotinoids to bee death
, and as a precautionary measure, the European Union has already temporarily banned several varieties of the insecticide. Maryland has banned them for home garden use, and Minnesota requires farmers to demonstrate a need for pest control before using neonicotinoids -
Is America's most common pesticide responsible for killing our bees?
.
Many farmers complain about bans or restrictions, fearing crop loss. However, crops can be successfully grown without using pesticides at all. In 2014, a group of Iowa farmers grew soybeans with and without neonics seed coatings and found no significant difference in crop yields. And a 2017 U.N. report concluded that it's a myth that pesticides are essential to feed a fast-growing global population.

According to the UN Food and Agriculture Organisation (FAO), adequate quantities of food can be grown without pesticides

, but the problem is poverty, inequality and distribution -

UN experts denounce 'myth' pesticides are necessary to feed the world

.

Looked at from a different perspective, food growing is more efficiently, more equitably, and more healthfully grown as agro-ecology, not industrial farming. If approached this way, small-scale sustainable farming could double food production within five to 10 years in places where most hungry people on the planet live, according to

a 2011 U.N. report titled "Agro-ecology and the Right to Food"

. These methods are largely organic and pesticide-free, using methods such as placing weed-eating ducks in rice patties in Bangladesh or planting desmodium, which repels insects, in Kenyan cornfields. According to the report, agro-ecology practices raise productivity significantly, reduce rural poverty, increase genetic diversity, improve nutrition in local populations, serve to build a resilient food system in the face of climate change, utilize fewer and more locally available resources, empower farmers and create jobs -

UN Report: Eco-Farming Can Feed the World

. If you agree that pesticides are not needed,

you may want to sign this petition

- We don't need bee-killing pesticides to feed the world

.

RESPONSIBLE ENERGY VS. FUKUSHIMA DAI-ICHI

president* Drumph's budget loves CO2, nukes, and the military.
Harvey Wasserman has provided his assessment of Donald Drumph's budget from an energy perspective, particularly nuclear energy. He states "Donald Drumph's first budget makes his antipathy to the environment clear—and his love for fossil fuels and nuclear power even clearer. In addition to slashing funding to the Environmental Protection Agency, he also announced this week that he wants massive rollbacks in automotive fuel efficiency standards and billions in new investments in nuclear weapons and storage for commercial nuclear waste". He notes that plans are being laid for dangerously dilapidated old nuclear reactors to be subsidized in a marketplace where renewable electricity is far cheaper. Drumph wants to revive long-dead Yucca Mountain for nuclear waste storage, after the Department of Energy has already wasted $13.5 billion on the project that ultimately could cost $90 billion. Read more at - Trump's Budget Assault on the Environment Packs a Wallop.

We suggest readers avail themselves of the following sources for news on the demise of nuclear power: Japan for Sustainability, Japan Focus, Solartopia, and Fairewinds Energy Education.
SUSTAINABILITY ACTION NEWS ITEMS
SUSTAINABILITY ACTION MEETING
Tuesday, 21 March 2017, 6:30pm
Lawrence Public Library, Meeting Room C, 7th & Vermont St., Lawrence KS 66044
Local Solutions for Transition to a Sustainable Economy

Planned agenda topics include:
election of officers - Coordinator, Treasurer, Secretary
3-month evaluation of new website and newsletter
2017 Program activities to act on
new webmeister job description
search committee for Development Director
social media strategy
new credit card
The Sustainability Action Network advances ecological sustainability through societal scale actions. While we work for personal lifestyle changes for individuals to minimize their carbon footprint, there is an imperative for institutional change to respond to the rapid onset of the triple global crises of Energy-Ecology-Economy. "Action" is our middle name. Visit us on the web at - Sustainability Action.


ADDITIONAL BICYCLE TRANSPORTATION PROJECTS PROPOSED FOR CITY OF LAWRENCE

Last week, Sustainability Action submitted two proposals for bikeways to be built by the City of Lawrence. They have asked citizens to suggest capital projects of all kinds for the 2018 Capital Improvement Plan (CIP), part of their overall budget. Since reporting on two projects here last week - shared use paths on both 6th St. and Naismith Dr. - we have submitted two more proposals. One is for protected bicycle lanes on Massachusetts St. from 23rd St. to South Park. The other is for a bike-walk street on 13th St. from Massachusetts St. to the east end of Oak Hill Ave.
Any project submitted will be placed in the CIP, but that doesn't mean it will be scheduled for construction soon, or even be funded at all. They will rank all proposals, and any of these may end up at the end of the list. Project likelihood is up to public pressure and advocacy - in other words, up to you. There is a disgruntled motorist contingent that resents spending any of "their" tax dollars to provide mobility for people who walk or bicycle on "their" streets. This same group killed the complete street design for Kasold Ave. last year. So you owe it to yourself to speak at the City Commission in favor of bicycle-pedestrian funding. The meeting will be on

Tuesday, 11 April, at 5:45pm

, at City Hall. Mark your calendar.
CONTINUING EVENT NEWS ITEMS
WILLOW STUDIO - COMMUNIVERSITY COURSE #1029-A
Wednesday,

22 March 2017

,

Session #2:

6:30pm

, Brush Creek Community Center, 3801 Brush Creek Blvd., Kansas City MO 64108
Saturday

,

25 March 2017

,

Session #3:

11:00am

, Home Grown Community Garden, 3000 E 20th St., Kansas City MO 64127
Willow Studio explores the intersection of basket weaving with environmental remediation. We will harvest materials available on urban sites such as willow and invasive honeysuckle, to be used for basket weaving and arts and gardening projects. The first session on Saturday, 18 March will be to harvest the materials. The second session on

Wednesday, 22 March

will be to learn weaving techniques to produce baskets and other pieces. The third session on

Saturday, 25 March

will be to plant a living willow fence, and weave wicker edging for growing beds - sustainable applications of these natural materials. The course will be taught by Steve Mann & Sharon Lee Mitchell.
Register at CommUniversity classes and registration. More info from .
K

KFI COMMUNITY RADIO - ECOLOGICAL SHOWS THIS WEEK
Listen at KKFI-FM 90.1, or link to web-streaming at KKFI 90.1 FM
(courtesy, Mike Murphy, KKFI Programming Committee)

Wednesday, 22 March 2017, 9:00am -
Alternative Radio
This episode is "An Indigenous Economic Model". The existing economic system in most countries is a kind of state capitalism. It produces enormous inequalities. Its extraction practices are environmentally destructive. Perhaps indigenous models provide a viable alternative.
Susquamish

Chief Seattle reportedly made these remarks in an 1854 letter to U.S. President Pierce: "How can you buy or sell the sky, the land? The idea is strange to us. If we do not own the freshness of the air and the sparkle of the water, how can you buy them? Every part of the earth is sacred to my people. Every shining pine needle, every sandy shore, every mist in the dark woods, every meadow, every humming insect." And he warned: "Continue to contaminate your bed, and you will one night suffocate in your own waste." David Barsamian interviews Roxanne Dunbar-Ortiz, who has been active in the international Indigenous movement for more than four decades. She is the author of "An Indigenous Peoples' History of the United States", winner of the 2015 American Book Award, "All the Real Indians Died Off and 20 Other Myths about Native Americans", and "The Great Sioux Nation".
Wednesday, 22 March 2017, 6:00pm -
All Souls Forum
This week's talk is titled "The Climate Emergency: The Case for Immediate Action". Craig Wolfe, President of the Heartland Renewable Energy Society, recently received intensive training from Al Gore's Climate Reality Project. He will discuss why we should consider the climate an emergency, and how we can and must respond in the current state of our politics.

Friday, 24 March 2017, 9:30am - Bioneers Radio Series
Bioneers presents "In Pursuit of Happiness: Becoming Beloved Community". Can humanity overcome divisions such as race, class, nation, religion, and gender roles to come together to solve the planetary emergency that threatens our common home? Civil liberties and legal scholar john a. powell and social justice advocate Grace Bauer show how Dr. Martin Luther King, Jr.'s vision of "beloved community" can overcome conflict, separation and the burdens of history to transcend our fear of the "Other" and work together to heal our societies and the Earth.
Monday, 27 March 2017, 6:00pm - locally produced Eco-Radio KC
This Eco Radio KC program will feature

another of their ecologically minded shows.
RICHARD WOLFF: DRUMPH'S ECONOMIC POLICY, AND WHAT TO DO ABOUT IT


Friday

,
24 March 2017, 6:00pm - $$
Carpenters' District Council, 8955 East 38th Terr., Kansas City MO 64129

Richard Wolff is a longtime economics professor at the University of Massachusetts-Amherst, and is currently at The New School. He is an articulate critic of capitalism and the oligarchy that expropriates environmental and social resources for their own gain. His weekly radio show,
Economic Update, and his efforts to promote worker coops through the Democracy at Work project has made him a leading voice for alternatives to today's grossly unequal deregulated economy. His most recent book is "Capitalism's Crisis Deepens: Essays on the Global Economic Meltdown". This is a benefit for Kansas City community radio KKFI. A full package price provides a VIP dinner with Prof. Wolff at

6:00pm

, with his talk beginning at

7:00pm

, and book signing at

8:00pm

. A talk-only option is available too. To buy tickets, go to -
Richard Wolff – Drumph's Economic Strategy and What To Do About It.


LAWRENCE WOOD CHIP & COMPOST SALE - EQUIPMENT LOADED


Thursday

-

Saturday

, 23-24-

25 March 2017

,

8:00am-3:00pm

- $$ (cash only)
1420 E 11th Street, Lawrence KS (east of 11th and Haskell, over the tracks)
(courtesy, Jenica Nelson, Lawrence Waste Reduction & Recycling)

The wood chips and compost are sold by the City Waste Reduction and Recycling Division. The wood chips are from grinding up trees and brush that private contractors have supplied. The compost is made from leaves, grass clippings, and prunings collected by the City. The WR&R Division will load them into pick-ups and small trailers (cannot load trucks with ladder racks). Bring a tarp to cover the material so it doesn't blow. Cost is $10 per loader scoop equivalent to two cubic yards, cash only. For more info, contact the Waste Reduction and Recycling Division at 832-3030 or visit http://www.lawrenceks.org/swm/lawncompostsale. Also, any

Saturday

from March to mid-December,

10am-4pm

, wood chips and compost are sold on a "load it yourself" basis. Cash only. Bring a shovel or fork.


KANSAS CITY "EAT LOCAL & ORGANIC FOOD EXPO", 20th ANNUAL
Saturday, 25 March 2017, 10:00am-3:00pm - FREE
Johnson County Community College Gym, 12345 College Blvd., Overland Park KS 66210
(courtesy, Brandi Schoen, Co-coordinator of the K.C. Food Circle)
There will be local growers of organic and free range produce selling their wares, including garden plant starts, as well as free organic gardening information and free 2013 Producers Directory. The Food Expo is free admission with free parking and free music. More information about the KC Food Circle and the two food expositions can be found at Kansas City Eat Local Food Expo or email Brandi Schoen at .
CLIMATE CHANGE AND THE DRUMPH WHITE HOUSE, TALK BY CHRIS KING
Sunday, 2 April 2017, 4:00pm
Lawrence Public Library Auditorium, 7th & Vermont St., Lawrence KS 66044
(courtesy, Karen Pagel-Meiners)

Dr. Chris King (retired Brigadier General) will present a talk titled "
Climate Change and Environmental Security in a Drumph White House". It will be an assessment on the current status of global climate disruption, including the approach by the U.S. and that of the other signatories to the Paris Agreement. Dr. King represents the U.S. on an international military advisory council dealing with security and climate change. He is an authority on the impact that climate change, water scarcity, and other environmental issues have on national security and international stability. Dr. King recently stated, "Climate change poses a threat to U.S. national security. This risk has been identified by the Department of Defense and the National Intelligence Council. I hope that the new administration carefully considers the scientific and security data in addressing threats posed by climate change." This presentation is being offered by the Sierra Club, Wakarusa Chapter in conjunction with Lawrence Ecology Teams United for Sustainability. More info from .
LAWRENCE TRANSPORTATION COMMISSION - NEWLY MEETING
Monday, 3 April 2017, 6:00pm
Commission chamber, Lawrence City Hall, 6 East 6th St., Lawrence KS 66044
The Lawrence Transportation Commission is the newly-formed body that oversees the establishment of strong multimodal transportation in the City of Lawrence, in order to advance the health, safety, and welfare of all residents. They make recommendations to the City Commission regarding implementation of its Complete Streets policy to equally accommodate all types of transportation users - people who walk, bicycle, skate, use wheelchairs, motor, or ride transit. As such, they make recommendations about the priority, location, design, maintenance, and funding of transportation projects. Find agendas and minutes at - Transportation Commission. The Transportation Commission is the outcome of the Pedestrian-Bicycle Task Force work in 2016.




PARTICIPANT REGISTRATION DEADLINE - LAWRENCE EARTH DAY PARADE & FESTIVAL


Monday, 3 April 2015, 5:00pm
(courtesy, Jenica Nelson, Lawrence Waste Reduction & Recycling)

Earth Day in Lawrence will be

22 April

. To register for having a booth OR being a food vendor OR being in the parade at the Earth Day Festival, visit http://www.lawrenceks.org/swm/earthday using the online forms. If you can't register online, please call 832-3030, or send a request to . The parade begins on the 22nd at

11:00am

, and the festival goes from

11:30am-4:00pm

. The Earth Day Parade is organized by K.U. Environs, and questions should go to com>. For general info go to http://www.lawrencerecycles.org/.


KANSAS CITY ENVIRONMENTAL MANAGEMENT COMMISSION
Wednesday, 12 April 2017, 4:00-6:00pm
Mid America Regional Council, Rivergate Center 2nd floor, 600 Broadway, KC MO

The Environmental Management Commission promotes environmental awareness and resource efficiency to the City's leaders and staff, to assist the progress of Kansas City toward sustainability. The General public is encouraged to attend and observe meetings and to join and participate in its efforts. More information is at KC Environmental Management Commission.


LAWRENCE SUSTAINABILITY ADVISORY BOARD
Wednesday, 12 April 2017, 5:30pm
Fire Station #5, Jayhawk Room, 19th & Stewart St., Lawrence KS 66046

The April agenda is not yet available: The S.A.B. meets monthly to discuss any and all aspects of furthering sustainability policies and practices by the City of Lawrence government and private persons. The public is welcome. Minutes are finalized in about a month after each meeting - Sustainability Advisory Board.


LAWRENCE PEDESTRIAN COALITION
Wednesday, 12 April 2017, 7:00pm
Lawrence Public Library, Room A, 7th & Vermont St., Lawrence KS 66044

The April agenda is not yet available: The Lawrence Pedestrian Coalition is a joint effort of the Lawrence Association of Neighborhoods and the League of Women Voters. Monthly meetings are open to the public. For more info go to Lawrence Pedestrian Coalition, or contact Gary Webber at <gwebber@sunflower.com>.


DOUGLAS COUNTY FOOD POLICY COUNCIL
Monday, 17 April 2017, 6:30pm


Homestead Kitchen & Bakery, 719 S. 8th St., Baldwin City KS 66006



The April agenda will include: a pre-meeting presentation at

6:00pm

by Lori Gardner, owner of Homestead Kitchen & Bakery. The Food Policy Council seeks to identify the benefits, challenges and opportunities for a successful, sustainable local food system. By advising the Douglas County Commission on public policies that willsupport local producers, preserve local agricultural resources and land, and create more local jobs, the F.P.C. hopes to improve the community's access to a local food supply and distribution networks. For more info go to Dg County Food Policy Council.


NATIVE PLANTS FOR YOUR YARD AND GARDEN
Monday, 24 April 2017, 7:00pm - FREE
Lawrence Public Library Auditorium, 7th & Vermont St., Lawrence KS 66044

Three local native plant experts, Kelly Kindscher, Courtney Masterson and Frank Norman, will engage in a presentation and discussion about how to incorporate native plants into your yard, garden, or landscape design. The event is sponsored by the Kaw Valley Native Plant Coalition and the Lawrence Public Library. Please RSVP to so they'll know how many to expect. More information can be found at their Facebook page at https://www.facebook.com/KVNPC/.


We hope this newsletter informs and inspires you. Please donate to Sustainability Action. Click on our PayPal button here >> Sustainability Action. THANK YOU!
___________________________________________________________________________________

We welcome suggestions for Newsletter items. Please send items to . The Sustainability Action Newsletter strives to inform, and encourage people to be active in the Sustainability Action Network, or other action-driven groups.

Join the Sustainability Action Network by clicking this link > >Become a Member | Sustainability Action Network, and when there follow the instructions.

The Sustainability Action Mission is to bring awareness of the global crisis caused by climate change, energy vulnerability and economic instability to communities in the Kansas River bioregion, and the tools needed to re-skill and re-localize our economy, and create a more socially just and ecologically sustainable world.

Sustainability Action Programs include:
1) Food Sovereignty and Permaculture - local control of food and food policy, Food Not Lawns workshops, tours, and crop mobs.
2) Bicycles and Alternative Transportation - promoting bicycles, complete streets, ride sharing, and electric vehicles, including infrastructure and pro-active regulations.
3) Energy Conservation and Renewables - reducing our carbon footprint by promoting a carbon diet, an energy diet, conservation, and decentralized renewable energy.
4) Prime Farmland Preservation - protecting Capability I & II farmland from urban development and industrial land uses.
5) Water Rights and Watersheds - Protecting the water commons from privatization and contamination, and restoring watersheds.
6) Local Money and Local Food - fostering money literacy, and implementing a local currency through a buy-local campaign focused on local food.

Sustainability Action sponsored organizations:
1) Lawrence Creates Makerspace - a co-operative community space with tool sharing, recycling, and innovation incubator.
2) Diesel Health Project - promoting eco-justice in neighborhoods exposed to industrial air and water pollution, by monitoring pollution, and changing policies and enforcement.

Collaborative Organizations:
We build synergy with like-minded groups such as: Douglas County Food Policy Council, Jefferson County Food Council, Lawrence Pedestrian Coalition, Cultivate Kansas City, Lawrence Fruit Tree Project, Flint Hills Renewable Energy & Efficiency Co-op, Kansas Permaculture Institute, and Live Well Lawrence.
_______________________________________________________________________________________

To subscribe to this newsletter, please click this link > > Subscribe to the Sustainability Action Newsletter . Enter your name and e-mail address, and click "sign up".